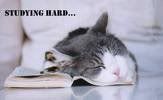 First things first. If you want to seriously start couponing, start by buying the Sunday Paper. You need to get the one that carries coupon inserts. There are three types of inserts: Redplum (RP) (used to be called Valassis), Smartsource(S or SS), and the Proctor and Gamble (PG).
As a general rule, coupons inserts usually do not come in the papers on holidays, but there are exceptions.
To find out what local paper gets the Redplum CLICK HERE
To find out what local paper gets the Proctor and Gamble CLICK HERE
If there is a paper that gets these, it will also have the Smartsource.
I suggest getting at least two papers every Sunday. More if there are really good coupons. On Sunday, most stores offer two packs for 2.50. But in my area there are guys that stand on corners and sell them for $1 a piece. Some Walmarts also sell them for a $1.
Get the papers, save the inserts, and write with a marker on the front which date it came out. You can file these in a folder in a filing cabinet if you wish.
Here's the Key: Keep all the coupons!! Most people have the mentality of just clip what I need and toss the rest away. This is stinkin' thinkin'. Save every coupon, and keep your inserts. You never know what might be a moneymaker, or even just free. Not something you would want? That's fine, you can donate it.
The key to shopping at some places, like CVS, is to get things you don't necessarily want, so that you are able to get the things that you need.
i.e, I won't use the Lamasil I got this week, but I got it so that I was able to get free toilet paper. So the Lamasil goes in the donate bin, and the toilet paper goes…..achem, well you know where……
After a while, you will start to have a good pile of coupon inserts. Here's a resource that helps you find what insert coupons are in. I suggest signing up HERE. It's a free resource that shows you what sales are going on at each store, and what coupons you can use. It will show you what insert (by date and name) the particular coupon can be found, and will combine it with a sale to show you how much you will pay/save, ect..
Okay, this is the first step!! You're on your way! Remember to save every coupon you can get your hands on!!!