Tuesday Testimony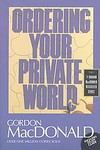 I've picked out an incredible book that transformed my life and I believe will transform yours.  Ordering Your Private World by Gordon MacDonald talks about the inner life and how it must be transformed.  What goes on inside of us truly affects our lives and the people around us.  Let me give you a little excerpt of this book.
How shall we describe this center, this inner spiritual territory where encounters are almost too sacred for words? Beyond the theological definitions, we are left with not much more than a collection of metaphors.

David of the Psalms was thinking in metaphors when he imagined his inner spirit to be like a pasture where God, the shepherd, led him as a lamb.  In his metppaphor, there were calm waters, green pastures, and tables loaded with food to be eaten in safety.  This was a place, David said, where the soul was restored.

For me the appropriate metaphor for the inner spiritual center is a garden, a place of potential peace and tranquility.  This garden is a place where the Spirit of God comes to make self-disclosure, to share wisdom, to give affirmation or rebuke, to provide encouragement, and to give direction and guidance.  When this garden is in proper order, it is a quiet place, and there is an absence of busyness, of defiling noise, of confusion. (117-118)
I will be reading through this book for the month of June, and will take inspiration to my Tuesday Testimony blog posts.  I would love it if you all would read along with me!  You can actually get this book for .75 cents right now on Half.com.  Shipping is right around $3.  I make nothing off of you buying this book.  I genuinely hope you get it and will read it along with me.
If you plan to, or are considering reading this with me, please share with us in the comment section.  And please feel free to leave any prayer requests.  My private world with God needs some nurturing, so I can't wait to dive into this book again!