Each week on Wednesday, I spotlight a website that I think is worthy, and give you a little review of it.
In the spotlight for January 14, 2009 is Kneebouncers!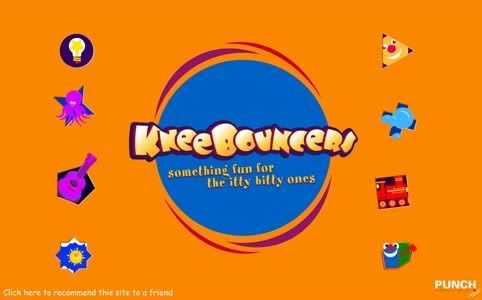 This is such a fun site! If you've got little ones, then I know you will enjoy this. I use this site mainly for the fun games that are on it. Here's how it works: Put your little guy or girl on your knee, visit this site, and then let them learn how computers work. The games respond to the pressing of any keys on the keyboard and to the clicks of the mouse.
There are 13 different games that you can play with your child. There's music, bouncing, bubbles, helicopters, police cars and so much more. Trains are a big thing right now with my boy, and he is absolutely crazy about the train game on this website. Not only is this site great for keyboard and mouse learning skills, but it is also great for helping little minds know how things work. My son is in speech therapy right now, and the interaction that he and I are able to do together at this site is helping us. But most of all, it's just fun. Everyone needs fun in their day!
Just don't hang out too long on the site. The only thing better than the fact that this site is FREE, is the time you get to spend interacting with your child.
I am not paid for these posts. Do you have a site you want to nominate to be Wednesday's Website? Send me an email and tell me why you want that site to be spotlighted. thethriftymama @ gmail.com (remove spaces).